The Holidays Are Upon Us
Happy Friday from Flagler Beach. It will be a busy weekend in town, highlighted by Flagler Beach's world famous Skydiving Santa! That's right, Santa will parachute down to the beach to kick off the Flagler Beach Holiday parade Saturday at 1pm. The better news? The parade will go along A1A from North 6th Street to South 6th Street, passing right in front the the Golden Lion. Come on over and grab lunch and a great seat!
More information about Holiday at the Beach:
Friday will be the lighting of Veteran's Park at 7:00 p.m. as well as photos with Santa. There will be entertainment from 6:00 p.m. to 9:00 p.m. On Saturday, Santa will parachute on the beach at 1:00 p.m. with the Flagler's Got Talent Parade to follow. The parade will begin on North A1A at 6th Street and goes to South A1A to S. 6th Street. Cake with Santa will be offered after the parade in Veteran's Park. Courtesy of Flagler County Chamber Of Commerce
Also on Saturday, Flagler Beach hosts the 2nd Annual Gamble Rogers Memorial Music Celebration. The festival will be held at Gamble Rogers State Recreation Area from 10:00am to 4:30pm. For more information visit
www.gamblecelebration.com

Repeal Day Celebration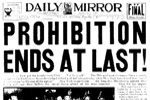 On December 5th, 1933 Prohibition ended in the United States. Repeal Day is not widely celebrated in this country, yet it commemorates the anniversary of the day the United States repealed the Eighteenth Amendment and gave Americans the constitutional ability to consume alcohol. Here at the Golden Lion staff and guests are encouraged to dress in the fashions of the era, ragtime music replaces the reggae house music, and we serve up classic cocktails such as Martinis, Manhattans, Rusty Nails, & Rob Roys. Make plans to join the celebration with us or at your local pub!
www.repealday.org


Golden Lion Gift Certificates
Looking for a great Christmas Gift? For a limited time, buy $50 in gift certificates and get $10 free or buy $100 and get $20 free. That's a deal! Golden Lion Gift Certificates, because scented candles are so last year.



Christmas Come True


Christmas Come True is a local non-profit organization dedicated to assisting Flagler County families in need of a helping hand. We are proud to support this worthy cause by hosting a Christmas tree at the restaurant. If you would like to help a family have a good Christmas, you can stop by and grab a card from the tree. Purchase gifts based on the list on the card and return them to the Lion by December 10. Visit christmascometrue.org for more information.


We want to host your Christmas Party!
Have your Christmas Party at the Golden Lion!! We can host inside or outside (with the help of our super-warm patio heaters). Please contact Julio at 439-3004. He will guide you through our menu choices, prices, beverages, and desserts for all your needs. All you have to do is turn up for the festivities. We can accommodate groups of all sizes. Happy Holidays To All!
Celebrating our 19th year as Flagler's Most Awarded Restaurant